March 24th, 2020
UPDATE. THE CONSTRUCTION HAS BEEN COMPLETED AND THE TRAIL IS OPEN
The Seaton Hiking Trail will be temporarily closed northeast of the Foreststream Trail (Old Whites Road) Bridge. See attached map. This effects the north end of Section 1 of the Seaton Trail. This closure is required to facilitate the construction of the stormwater management facility outfall to West Duffins Creek. The trail will remain closed in this area until the completion of all construction activity.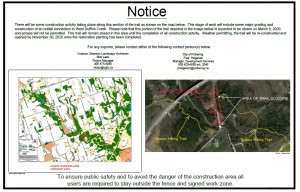 Purpose: Construction of Stormwater Management Facility Outfall
Duration: March 9, 2020 to November 30, 2020
For the duration of construction, temporary signage will be installed on the trail to notify users.
For additional information please contact:
Max Lazo
Project Manager
Cosburn Giberson Landscape Architects
Tel. 905.475.6988
mlazo@cgla.ca
Paal Helgesen
Manager, Development Services
City of Pickering
Engineering Services Department
Tel. 905.420.4660 ext. 2046
phelgesen@pickering.ca