Seaton Trail overlayed on Google Maps:
Last updated January 31, 2010
Printable Maps:
Regional – as shown above (1650 x 1275 jpg)
Reaching The Trail:
NORTH
: The entrance is located on the south side of Highway 7 at Green River, approximately 8 km east of Markham. Watch for the Seaton Hiking Trail sign beside a long driveway, accessing the trail parking lot. Coordinates: N43.90110 W79.17664
SOUTH
: Take Brock Road north from Highway 401 and turn west on the 3rd Concession. Parking is available on the roadside, at the deadend of the road but outside the gate to the Brock West Landfill site. A large sign shows access to the trail. Coordinates: N43.86403 W79.09846
HAMLET OF WHITEVALE
: Park in the community park on the south side of Whitevale Road, on the west side of the river. The trail goes south out of the park, on the west side of the river. Going north, cross the bridge to the east side of the river and look for the sign. Coordinates: N43.88649 W79.16267
TAUNTON ROAD
: From Taunton Road, south on Whites Road. Turn east onto Forestream Trail. Before the river turn south and continue a short distance to the parking lot. Coordinates: N43.86954 W79.13171
Trail Markings:
Originally red rings painted on trees were used for the main trail route and yellow for side trails. Double rings indicate a turn. The original trail markings can still be seen in many locations, but are becoming faded.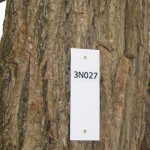 White metal blazes are now placed along the entire length of the main trail. These blazes are numbered to assist volunteers, contractors and emergency personal to locate work sites and problem areas.
Sections of Trail:
1 – Concession 3 to Forestream Trail
2 – Forestream Trail to Whitevale
3 – Whitevale to Green River
Direction of Trail:
S – Southbound
N – Northbound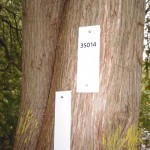 Sequential number: ### – Sequential number, beginning with 001 at the start of each section
An example of blaze numbering: 3N014
3 = Whitevale to Green River section
N = Northbound
014 = Sequential number, beginning with 001 in Whitevale Park Trailhead increasing heading north
Single Blaze – trail proceeds straight ahead
Double Blaze – turn left if top blaze is to left of bottom blaze and turn right if top blaze to the right of the bottom blaze
Seaton Trail Marker Coordinates Spreadsheet
Use the trail at your own risk because blazes can be lost due to tree falls and vandalism and the trail is frequently shifted due to erosion.
Disclaimer: We make no promise that these maps are currently accurate. Since its creation, the trail and its physical environment have undergone many changes in route and structure. New maps are being developed.